Business Directory

Fortino Winery & Event Center
4525 Hecker Pass Hwy, Gilroy, Ca 95020; Tel. 408.842.3305
Gino Fortino, a fourth generation wine-maker, offers a unique experience for the wine-enthusiast. For roughly $15-$35 a person (15 guest minimum), Fortino extends a private tasting invite for food and wine pairings ranging from gourmet cheeses and hors d'ouvres to main entrees. Each session includes a Personal Wine Educator to aid the journey. Fortino Winery produces whites and reds as well as sparkling and fruit wines. The tasting room is open Tuesdays thru Saturday 10am-5pm and Sundays from 11am-5pm. There is no fee to taste.

Guglielmo Winery
1480 East Main Ave., Morgan Hill, CA 95037; Tel. 408.779.2145
Chardonnay, Cabernet Sauvignon, sparkling wine and even Grignolino can be found at the Gugliemo Winery. The Gugliemo family has been in the business of making wines since 1925. This winery offers beautiful scenery as well as a variety of events such as a "Bottle Your Own Red Wine" day and a party known as "Together Under the Tuscan Sun," which is a fundraiser benefiting the Sister City Committee of Morgan Hill. Tasting room and gourmet food shop open daily 10am-5pm.

Hecker Pass Winery
4605 Hecker Pass Road, Gilroy, Ca 95020
Holders to a tradition of fine food-and-wine pairings, Hecker Pass has been family owned and operated since its foundoing more than 150 years ago. A 2001 Red Velvet allows rookie red-wine enthusiasts a toe-the-water opportunity—absent are the tannins found in a Zinfandel or Petite Syrah. La Vigna, the event center at Hecker Pass Winery, is available for any special occasion calling for a location surrounded by hills and perfect photo-op vistas. Tasting room open daily from 9am-5pm.

Kirigin Cellars
11550 Watsonville Road, Gilroy, Ca 95020; Tel. 408.847.8827
Founded in 1916, this winery expanded in 2000 to now include large, plush fields where dogs are welcome to play. Kirigin Cellars offers their fields and courtyard for private events such as weddings or family reunions. As a bonus, they also offer custom labeling for any special occasion. In July, Kirigin holds a "Summer BBQ" featuring live music and (yes) plenty of wine. Kirigin Cellars is open daily from 10am-5pm for a complimentary tasting.

Pedrizzetti Winery
1645 San Pedro Ave., Morgan Hill, Ca 95037; Tel. 408.779.7389
Located in the heart of Morgan Hill is the inviting Pedrizzetti Winery. The atmosphere and location make Pedrizzetti an ideal host for several annual local festivities, such as the "Fruits of the Harvest" celebration and another shindig with the creative moniker "Unleash the Spirits at the Winery." During the rest of the year, there's a tasting room to enjoy the champagne and Petit Syrah. Tasting room open Tuesdays thru Sundays 10am-5pm.

Sarah's Vineyard
4005 Hecker Pass Hwy, Gilroy, Ca 95020; Tel. 1.877.44.PINOT
Positioned at the eastern foot of Mount Madonna, the owners of Sarah's Vineyard have prided themselves in producing "refined local wines" since their first vintage in 2001. They offer a rare Roussane that runs $30 a bottle and pairs well an heirloom tomato salad—perfect for the warmer months. Sarah's Vineyard also produces Chardonnay, Pino Noir, Merlot, Syrah and Zinfandel. Tasting room open daily from 11am-5pm.

Solis Winery
3920 Hecker Pass Road, Gilroy, Ca 95020; Tel. 408.847.6306
Brothers Michael and Vic Vanni took over the family business in January of 2007 with a plan to continue the tradition of producing award-winning wines. The winery is located on an 1830's Mexican land grant known as Rancho de Solis. Three years in a row beginning in 2004, Solis Winery took home the award for "Best of Class of Region" at the California State Fair for their Sangiovese. Solis Winery has Barrel Tasting Open Houses', Wine Club Dinners, and even a "Cigar Under the Stars" party. "Nothing is more special than an event held among picturesque vines," say the Vanni's. Open daily from 12pm-5pm.

Sycamore Creek Vineyards & Winery
12775 Uvas Road, Morgan Hill, Ca 95037; Tel. 408.779.4738
The proudly small, family-owned-and-operated Sycamore Creek Winery produces only limited amounts of their "unique hand-crafted" wines. For those wishing to have first crack at these exclusive wines, Sycamore Creek hosts regular gatherings, such as a "Cabernet Release Partye;" release dates can be found on their website. Tasting room hours are Mondays, Thursdays and Fridays from 12pm-5pm and Weekends from 11am-5pm.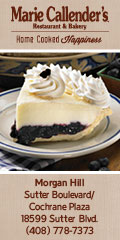 Marie Callendar's Morgan Hill