Business Directory

Welcome to Morgan Hill, California!
Morgan Hill possesses both a rich history and the fresh feel of an up-and-coming community. Sitting at the foot of El Toro Mountain, the city offers spacious vistas in a locale that is peaceful yet lively. With Henry Coe State Park in its backyard, Morgan Hill offers abundant recreational opportunities, as well as a gorgeous little downtown. And friendly locals can always be found at the M & H Tavern.
Morgan Hill Wineries
Just minutes from Downtown Morgan Hill is the scenic Gugliemo Winery, a quick trip to old Italy. A ten-minute drive down Hecker Pass Road leads to the lovely Sarah's Vineyard, and to the Fortino, Solis, and Hecker Pass wineries. Also nearby is the Sycamore Creek Vineyards on Uvas (Spanish for "grapes") Road. With eight wineries within a 10-mile radius, visitors and residents can find a quick escape for a day of wine tasting with captivating views.
Morgan Hill Restaurants
Serious BBQ from the Trail Dust? Check! Filling comfort food favorites like Cheeseburgers and sandwiches from The Good Fork? Check! In Morgan Hill diners may also choose from a melting pot of multi-cultural cuisine—CreAsian, Sicilia in Bocca, Siam Thai, and a ton of taquerias. For the casual diner there are pubs and bars that offer good food, TV sports and Morgan Hill's brand of casual atmosphere.
Morgan Hill Attractions
There are choices to be made when it's time for fun in Morgan Hill. There's golf at Coyote Creek or Cordevalle, a picnic at Henry Coe State Park, or a visit to an art gallery downtown. Splash around at the Morgan Hill Aquatics Center, which features a Competition Pool that stays open year round. Morgan Hill even has a Model Aircraft Park for radio-controlled flying enthusiasts.
Morgan Hill Hotels
Whether it's a quick visit to the local wineries or a pilgrimage to the annual "Mushroom Mardi Gras," there is a Morgan Hill hotel nearby to enjoy a little R&R after a day of fun. Travelers can find a hotel that sits in the middle of a vineyard or right in the heart of downtown. The are affordable rooms for on a budget, and for those looking for a little more luxury, there are hotels and resorts within minutes of spas and golf courses.
Morgan Hill Music & Nightlife
Morgan Hill Bars and Clubs: Entertainment, music clubs and night spots.
Morgan Hill Events
From the weekly Farmers Market and Friday Night Music Series to annual celebrations like the Mushroom Mardi Gras, Taste of Morgan Hill and Poppy Jasper Film Festival, Morgan Hill offers a nice variety of high-quality community events.
Morgan Hill History
Diana Murphy married Hiram Morgan Hill in 1882, built an estate between the railroad and Monterey Road, and began to create what would become Morgan Hill, California. Once known as the "Morgan Hill Ranch" train stop, Morgan Hill, California became an official city in 1909, as its population grew and its residents developed a community. A century later, the welcoming climate and rolling, oak-covered hills continue to draw people from all over.
Morgan Hill News
Headlines from local newspapers and Morgan Hill area radio and television stations.
Morgan Hill Real Estate
In Morgan Hill, a dream home might mean a 20-acre ranch or a working vineyard. Gated communities like Rockwood Ranch offer spacious country lots with acres of possibilities, and private driveways winding through the Paradise Valley. New four-bedrooms can be had for under $700K. Buyers and renters alike can find a home In Morgan Hill that's far away from the hustle and bustle of city-life, yet still within 30 minutes of downtown San Jose.

Morgan Hill Beauty
Guide to Morgan Hill salons, day spas, tanning, skin care, laser treatments and boutiques.

Silicon Valley Golf
Bay Area and Silicon Valley Golf Courses: A guide to golf courses in the San Francisco Bay Area and Silicon Valley.

Morgan Hill Free Guide
Free things to do in Morgan Hill: A guide to free activities and entertainment in the city of Morgan Hill, California.

Santa Clara County Attorneys
A directory of attorneys in the Morgan Hill area.

Silicon Valley Wineries
San Jose and the Santa Clara Valley has the oldest continuously producing vineyards in California.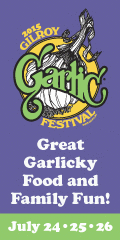 Gilroy Garlic Festival
July 24-26, 2015